GOLDEN BAKED VEGETABLE PASTRY PIE RECIPE
Ingredients for the dough
2 packets of good ready made puff pastry (I used two round pastry's as this is what they had in the store but can easily be adapted to any shape accordingly)
Ingredients for the filling
1 large bulb of fennel/2 sticks of celery
1 Tblsp finely grated ginger
1 cup sweet potato/pumpkin
1 carrot, grated
1/2 cup finely chopped cabbage
1 cup finely chopped cauliflower
1 teaspoon of cumin seeds
1/2 tsp brown mustard seeds
1/2 tsp garam masala
1/2 tsp turmeric
1/2 cup coconut milk or water
3/4 cup frozen peas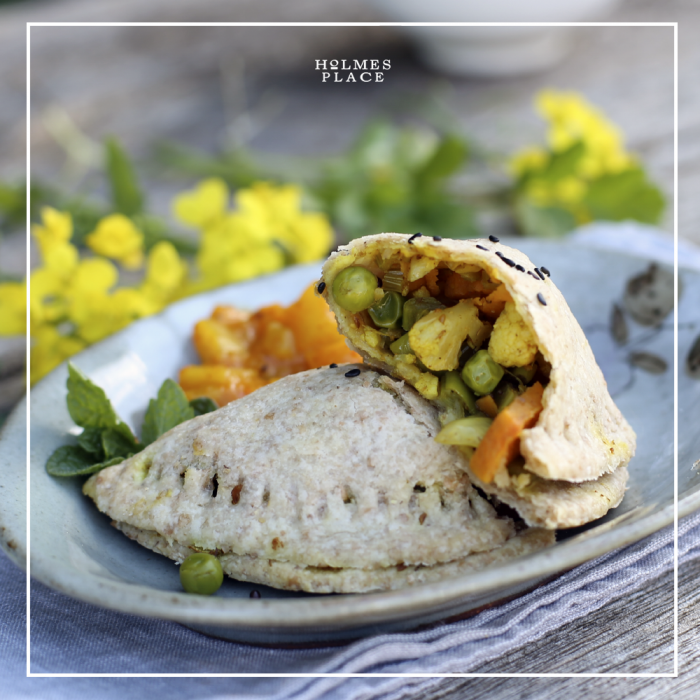 Recipe
In a small pan dry-roast the cumin seeds, then place in a mortar and pestle and ground coarsely. Add the turmeric and garam masala into the pestle. Set aside.
Remove the outer leaf of the fennel and the middle core. Finely chop into very small pieces. Set aside.
On the chopping board, peel the sweet potato and finely chop the rest of the vegetables (except the carrot). Remove the thicker stems of the cauliflower and chop into thin shreds. Grate the carrot.
In a large skillet on moderate heat, add a tablespoon of oil/ghee. When hot, add the mustard seeds, and then when they pop and splutter, add the ginger and rest of the spices. Sauté the spices in the ghee for a few seconds.
Add the fennel, cauliflower, sweet potato and cabbage, and sauté for 5 minutes. Stir in the coconut milk/water. Add the peas and grated carrot and sauté for 1 minute. Turn off the heat, cover and allow to rest so that the vegetables continue to soften. Set aside to cool for 30 minutes.
Dough
Divide the dough into 12 equal balls, each one weighing roughly 50 – 55 grams each. Press each ball into a small round disc and place them into the refrigerator for an hour. Roll each disc between two pieces of cling film, into a circle of 5 and 1/2 inches. (When using the cling film there is no need to use any flour). Place the filling on one side and fold the other half over to cover the filling. Press down with a fork to seal, and repeated until finished. Place in the fridge until ready to bake.
when ready to bake:
Place the tray into a preheated 215C/425F oven and bake for 20 – 25 minutes. (If using ready-made puff pastry, they will take longer to bake – about 30 – 40 minutes or until golden brown)