It's super tasty but super spicy! Be careful and enjoy the healthy dish.
Time to prepare: 1½ h
Serving: 6
Ingredients
450g sweet potatoes
1 level teaspoon cayenne pepper, plus extra for sprinkling
1 heaped teaspoon ground cumin, plus extra for sprinkling
1 level teaspoon ground cinnamon, plus extra for sprinkling
Rapeseed oil
freshly ground black pepper
1 onion
1 red pepper
1 yellow pepper
1 bunch fresh coriander
1 red chilli
2 cloves garlic
2 x 400 g canned beans (e.g. kidney, chickpea, pinto, cannellini)
2 x 400 g canned chopped tomatoes
Preparation
Preheat the oven to 200°C. Peel the sweet potatoes and cut into bite-sized chunks.
Sprinkle with a pinch each of cayenne, cumin and cinnamon, drizzle with olive oil.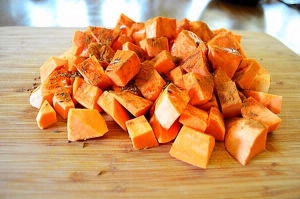 Put them on a baking tray and scatter, sprinkle with pepper.
Put the baking tray in the hot oven to cook for 40 minutes until soft and golden.
Peel and roughly chop the onion. Halve, deseed and roughly chop the peppers. Pick the coriander leaves and put aside, finely chop the stalks. Deseed and finely chop the chili. Peel and finely chop the garlic.
Put a large pan on a medium-high heat and add 2 tablespoons of oil. Add the onion, peppers and garlic and cook for 5 minutes.
Add the coriander stalks, chilli and spices and cook for another 5 to 10 minutes, stirring gently.
Drain the cans of beans, and rinse in a sieve under cool running water, then tip them into the pan with the canned tomatoes.
Stir well and bring to the boil, then reduce to medium-low heat and leave to simmer for 25 to 30 minutes. If it gets a bit thick then add a splash of water.
Add the peppers with onion, garlic and coriander.
Stir the sweet potato through your chilli with most of the coriander leaves.
Scatter the remaining leaves over the top and serve with rice or tortillas with guacamole.
BON APETIT!
When you're ready, share with us a photograph or your opinion in comments below! You can also give our brazilian recipes a try.
Your Holmes Place Team