Suchbegriffe können jederzeit eingegeben werden
Five minute plank full body workout: Get fit by standing still
300 seconds of your day is all you need to help you on your way to a stronger, toned body. Sound unbelievable? It's true - this short burst of exercise has proven results. Enter, the five-minute plank full-body workout.
Mehr
Pleasant pain: Why is the body sore after a Workout
Why is the body sore after a workout? Pain and pleasure is not a welcoming mix for most of us. But the blood-pumping, full-body post-gym ache? That's the good stuff. Here's why it happens.
Mehr
Triathlon Athlete Workout with Filip Szymonik
Triathlete and Holmes Place personal trainer Filip Szymonik in an exclusive interview. Check out his workout routine that will take you straight to the podium: open water swimming, running, cycling and gym circuit. Be inspired.
Mehr
Three great reasons to try Euphoria
Hands up if you're finding fitness a chore rather than an enjoyable experience? Many of us feel that exercise is just another tick-box process that needs doing to keep our body healthy. Well, yawn no more and try Euphoria by Holmes Place.
Mehr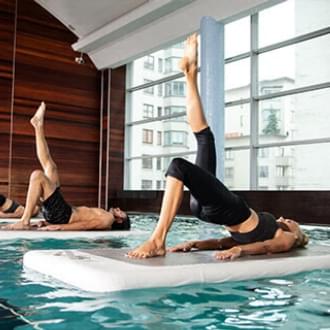 Six reasons to try Float Fit
Think you've tried every workout and nothing's floating your boat anymore? This 30-minute class won't only have you splashing with joy; it'll hoist up your health and make waves with your friends, too.
Mehr
MILON-Zirkel
Jetzt erreicht Ihr Training neue Dimensionen. Trainieren Sie mit dem neuen MILON-Zirkels noch effektiver, professioneller, sicher und mit Spaß. Momentan noch im Aufbau, aber ab Mitte März geht es im Holmes Place Hamburger Meile los!
Mehr