Suchbegriffe können jederzeit eingegeben werden
Berlin
Potsdamer Platz
Entspannte Verwöhnmomente im Herzen Berlins. Starten Sie in ein gesünderes Leben mit Holmes Place und genießen Sie Wellness, Fitness und persönliche Trainingsbetreuung auf höchstem Niveau in den weltweit führenden Health Clubs. Bei Holmes Place sagen wir: Enjoy the journey. - Wir unterstützen Sie auf Ihrem Weg zu Ihrem ganz persönlichen Ziel!
Gabriele-Tergit-Promenade 17 A-D, 10963
Berlin - Germany
| | | |
| --- | --- | --- |
| Öffnungszeiten | Dienstag | 06:00-23:00 |
| | Wednesday |  06:00-23:00 |
| | Thursday |  06:00-23:00 |
| | Friday |  06:00-22:00 |
| | Saturday |  09:00-21:00 |
| | Sunday |  09:00-21:00 |
| | Monday |  06:00-23:00 |
Unser Club
Wir bieten eine komplette Reihe an Leistungen für ein ausgeglichenes, gesundes und glückliches Leben. Hier werden Werte wie Balance, Unterstützung, Zugehörigkeit und Fortschritt zum Leben erweckt. Hier finden Sie alles, was Sie brauchen.
Unser Team
Unser Team wurde aufgrund seiner Motivation und Inspiration von unseren Kollegen und Partnern sorgfältig ausgewählt. Deine Persönlichkeit und dein Enthusiasmus sind es, die die Vision von Holmes Place voranbringen und eine positive Veränderung herbeiführen.
EXKLUSIVE ONLINE-MITGLIEDSCHAFT
Komfort Garantie
Online-Mitgliedschaft
Das Wichtigste für uns ist, dass Sie zufrieden & glücklich sind. Aus diesem Grund haben wir die Holmes Place Komfort-Garantie, die Ihnen dabei hilft, guten Gewissens Ihre Mitgliedschaft auch online abzuschließen. Genießen Sie hier die 14-Tage-Geld-zurück-Garantie und legen Sie gleich los.
Weitere Tarife
Für weitere Kooperationstarife & Mitgliedschaften (z.B. Studenten) kontaktieren Sie uns bitte via Mail: potsdamerplatz@holmesplace.com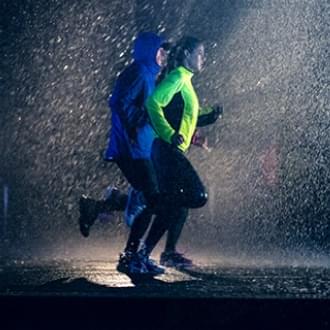 April playlist - running in the rain
In the immortal words of T.S. Eliot: "April is the cruellest month". Well, we are not that extreme.
Mehr
Pleasant pain: Why is the body sore after a Workout
Why is the body sore after a workout? Pain and pleasure is not a welcoming mix for most of us. But the blood-pumping, full-body post-gym ache? That's the good stuff. Here's why it happens.
Mehr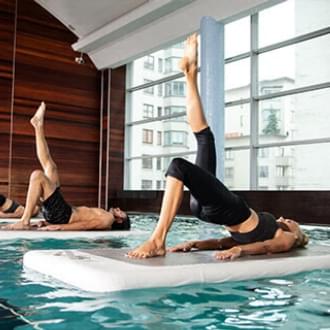 Six reasons to try Float Fit
Think you've tried every workout and nothing's floating your boat anymore? This 30-minute class won't only have you splashing with joy; it'll hoist up your health and make waves with your friends, too.
Mehr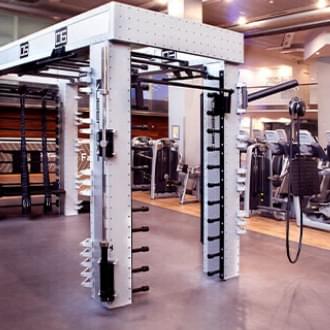 Gym vs home: The benefits of taking it to the club
You know you need to exercise - but is a gym membership really necessary or is exercising at home just as good? A question asked by many and answered by simply looking at the pros and cons. By doing so, you can work out your workouts yourself.
Mehr
Late-night workout for a deeper sleep
A gentle, Yoga inspired, night workout that allows for stretching and relaxation preparing you for a good night's sleep.
Mehr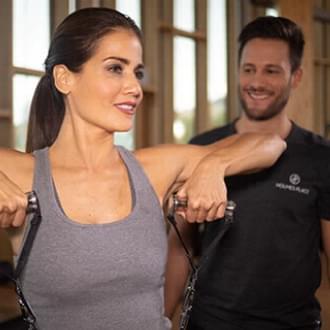 Personal Training - the importance of a personalised approach to fitness
A Personal Trainer can help to identify the best exercises and frequency to support people to reach realistic and achievable goals. Without this, people can not only waste time and money but also lose motivation. Here is what you can get with a personalised approach to fitness
Mehr