5 Exercises Safe for Pregnant Women
Learn why you should go on training when you are pregnant. We show you the best exercises.
1.Inter-Bladed Muscles Exercise
Slightly crouch with both knees facing outwards, strengthen and tighten your core. Arms stretched out with weights in either hand, bend your elbows and squeeze your shoulder blades together. The head should be naturally straight. Pull 8x - 10x for optimal strengthening. Repeat this 4x.
2.Deltoid Exercise
Again, use a range of weights. Adjust to standing position. Pull in the belly and the torso with both hands held out in front of the body with gentle force. Strengthen the shoulders and specifically the front of the deltoid muscle. Don't let the arms go limp. Pay attention to power, thrust and smoothness. Repeat this in four series - 8x tension, 10x small swings in an outstretched motion. At the end of each series hold on to 8 beats!
3.Glut Muscle (thigh muscle) Exercise
Ideally, the light weight rod on the shoulders is best for pregnant women. Start by standing up straight with your spine aligned. Perform a lunge with your back straight and head upright. No limp arms. The elbow and legs support the majority of the weight and should not have an angle less than 90 degrees! No bending forward or backwards bends! Repeat the exercise 8x in pull, 10x in tempo on each leg.
4.Pectoral Muscle Exercise
Using one of our popular weight ball exercises. Begin in the standing position. Flatten out the torso with both hands pushing forcefully on the weight ball to an outstretched position. This will strengthen the pectoral muscles. Again don't let the arms go limp. Be careful not to move or rock, stay steady. Repeat in four series - 8x tension, 10x small swings with arms outstretched forward. At the end of each series hold on 8 seconds
5.Stretching
On your hands and knees take a cat-like stretching position, flex the hip and arch the back. Release after 10 seconds. When easing your torso slowly back down release the head up and breathe freely. The Cat exercise perfectly stretches the lumbar spine!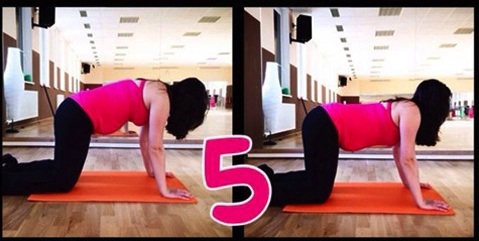 Start practicing now and improve your health and the health of your unborn baby.
If you do not feel like exercising alone, put yourself to the care of our expert Personal Trainers. They will draw up a training plan especially for you. Here to assist you, making sure you do all exercises correctly and comfortably.
Petra Jandová
Regional Fitness Manager
Holmes Place Czech Republic