7 deliciously healthy desserts to satisfy your sweet tooth
There is a time and a place for rich desserts, but it's not everyday after dinner. When you're in the mood for something sweet, that won't equate to half your recommended intake, look no further than these wholesome recipes.
Sweet potato brownies
It may sound like a bizarre combo, but this Deliciously Ella recipe proves that the pairing of sweet potatoes with lashing of gooey, chocolaty chocolate (from raw cacao powder) isn't an unusual match after all. Packed with medjool dates, maple syrup, ground almonds and coconut oil, this lavish dessert is the tastiest way to get one of your five-a-day.
Coconut and almond macaroons
Swap the calorific cakes for lighter options without compromising on taste with these healthy palate-pleasers from Hedi Hearts. Gluten free, paleo friendly and free of refined sugar, they're anything but flavour free. Ground almonds thrown into the mix adds a nutty flavour - crisp on the outside and mouthwateringly chewy on the inside. For an extra treat, drizzle melted raw chocolate over your coconut delights and enjoy.
Blueberry oat muffins
Blueberries aren't just a wonderful superfood, they make mighty muffins. Oats, flour, chopped almonds and melted coconut oil are combined with ground flax and egg to create these melt-in-your-mouth muffins by Portuguese Girl Cooks. Top each treat with an almond-oat crumble and you have the perfect wholegrain breakfast or snack.
Lemon meringue pie
Classic lemon meringue tarts, sitting on a buttery crust filled with sugar, tend to be on the monster end of the calorie chart. Luckily, this lighter recipe from Wake The Wolves can satisfy the biggest sweet tooth without the guilt. Replacing a big portion of sugar with honey and coconut sugar and swapping flour for chia seeds to thicken the filling, these simple changes are all you need to make to lessen the calorie-load. Whip them up in individual jars as a chic dessert for dinner guests with intolerances - they're dairy free and gluten free, too.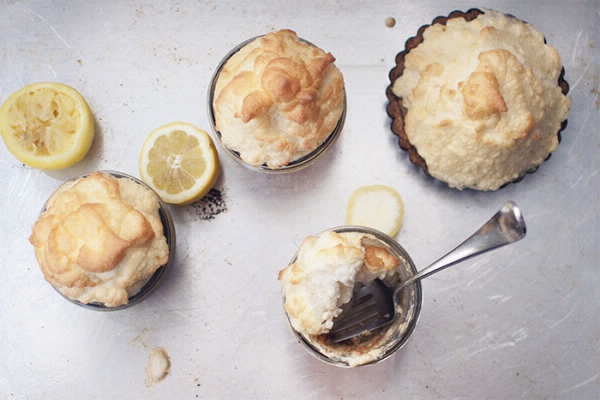 Chestnut cake
The Italians know how to do desserts. 'Castagnaccio', a naturally gluten free Tuscan cake made from chestnuts and raisins, bursts with unique aromas thanks to the fresh rosemary it's infused with. Hemsley and Hemsley's version is also vegan, free of refined sugar and effortlessly healthy. The sisters use maple syrup to sweeten the cake and serve with a drizzle of raw honey for a deliciously nutritious finish.
Chocolate and hazelnut avocado mousse
When life gives you avocados, make mousse. Rawberry Fields light and creamy whipped chocolate mousse uses buttery avocado to achieve a beautiful texture. Spoon in some organic hazelnut butter, add high quality cocoa powder (or raw cacao, but this can be bitter) and a dash of maple syrup. Four simple ingredients for one big-flavour pudding.
Strawberry shortcake donuts
Everyone wants to hear the words 'healthy' and 'donut'. Thanks to this strawberry shortcake donut recipe by With Food and Love, you can taste them, too. Naturally vegan and gluten free, these chewy sweet treats are almost too pretty to eat (you can take that as a challenge). Top them with juicy strawberries and a dollop of coconut cream for a fresh dessert without the guilt.