Find positives in any weather conditions
Even though temperature is dropping and long sunny days are over, don't let it affect you. Naturally, your mood changes with the change of the seasons. With winter approaching, you probably want stay home under the covers and come out only if it's necessary. Does that sounds familiar?
Don't join the ranks of whiners, who moan and complain about unpleasant weather all the time! It is true that during the rainy autumn it's harder to recharge than in the summer, but do not fall into weather depression and spend your time fighting laziness. Live through winter with spirit and use it as a special time for yourself, your family and friends. Open your mind to the opportunity of new ideas and take some steps to meet your goals and move up in your life. This is what will help to rise and deliver energy and motivation to your body and soul throughout the forthcoming winter.
Here are 4 tips to help you enjoy this season:
1.Focus on nutrition!
It is harvest time; engage in a diet of autumn treats like apples, plums, walnuts, sunflower seeds, beans, zucchini, cabbage, peppers, etc. Select warming foods that accelerate blood circulation (proteins, cayenne pepper, chilli, cinnamon). Add food supplements with vitamins C and E, selenium and zinc to help boost immunity and cleanse the body of toxins. Drink herbal and ginger tea with honey and lemon..
2.Boost your immunity!
Prevent catching colds or other illnesses by using sauna or steam rooms. Regular saunas are used as a means of hardening and increasing not only your physical fitness but also your immunity.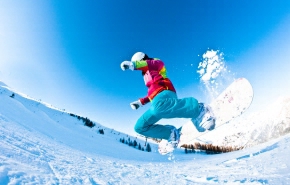 3.Treat yourself to detox treatments!
Pamper your body and cleanse the toxins out and prepare yourself for the upcoming season. Read more about this in our Detox article.
4.Move!
Inject endorphins into your blood flow. Head to the gym for your favourit studio classes or exercise outdoors. Even in autumn you can run outdoors. Select good quality clothing and equipment that will help you avoid catching colds. Not sure how? Check with your trainer, you will get from him/her not only good advice for better results, but also a boost of motivation.
Fight against autumn bad moods with the strongest weapon you have; your body! Don't fall behind and enjoy this season to its fullest.
HAPPY HOLIDAYS!
Lucie Oliveriusová
Holmes Place Czech Republic