'BOOST YOUR METABOLISM'SESSION
With some valuable tips from our Nutrition Coaches you will discover the nutrition secrets that will activate your metabolic rate, help you lose that stubborn extra weight and become the best version of you!
CIRCUIT XPRESS
We know that fitting fitness into your busy schedule is a challenge. That's why we have created Xpress classes. These innovative fitness programs offer all the benefits of small group training with the guidance of a qualified Trainer and all the fun of a group class in a condensed format, designed to fit into your busy routine. Try out our Circuit Training Circuit Xpress class to improve your overall fitness and make your daily activities easier.
AIRFIT (HP SIGNATURE CLASS)
AIRFIT, the ultimate cardiorespiratory group class with the most uplifting music, is back and renewed to fire you up! The trampoline turns working out into fun while you exercise your legs, buttocks and core and your calorie burn rate increases. Try it exclusively at Holmes Place!
SPARTANS (SIGNATURE CLASS)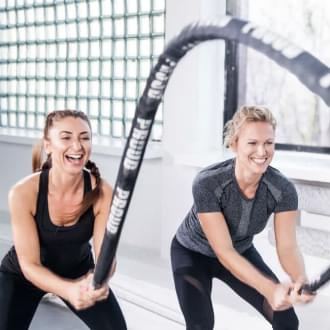 Spartans is one of Holmes Place's most dynamic exclusive group programs and is a 45 minute high-intensity, full-body training. The workout summons all your energy and focuses on completing challenging exercises, movements and intense repetitions. Therefore, you can expect to burn approximately 600 - 800 calories in just one session! It sculpts the legs and lifts the buttocks through dynamic leg exercises, increases metabolism as it offers an after workout burn effect, tones the abs and boosts self-confidence through completion of the most demanding exercises.
INDOOR CYCLING
Stationary bike workouts, otherwise known as indoor cycling, are some of the most in-demand activities of a fitness Club. This is exactly the type of class one should seek if the goal is to lose weight, tone buttlocks, legs and core muscles, while gaining muscle mass and losing fat. This intense class can lead to burning 700-calories/ hour, if you max out. All you need to do is pedal to the beat and have fun!
AQUA POWER CLASS
Water workouts offer unparalleled benefits and it's worth giving yourself the opportunity to discover them. Try out this demanding Aquarobic program that offers muscle strengthening, as well as, cardiorespiratory endurance.
START YOUR NEW FITNESS JOURNEY TODAY
If Lighter Than Yesterday is your choice, we are here to inspire you and give you the motivation you need to start a brand new fitness journey* towards your personal renewal, in the best possible way. Do something good for yourself today and feel better than yesterday!
*The fitness journey of your choice and all the free trial programs it includes, can be activated only once, depending on availability and after making an appointment, and is valid for 2 weeks after sending your participation form. This offer applies ONLY TO NON-MEMBERS of Holmes Place Clubs.