Πληκτρολογήστε για αναζήτηση οποιαδήποτε στιγμή
How does fat loss actually work?
Knowledge is power - here's how fat is stored and burned, so you can start torching it smartly.
Περισσότερα
Ayurvedic Cleanse - Dinner - Carrot & Moong Dal Soup
A warm and comforting soup that is ideal to finish a detox day in perfection. A very satisfying aromatic, nutritional and cleansing suggestion for your Ayurvedic Cleanse plan.
Περισσότερα
Ayurvedic Cleanse - Dinner - Soothing Moong Dal
Moong beans are the star of this detoxifying dish. It has antioxidant properties and is very rich in protein. Indulge while boosting the immune system, cleansing and guaranteeing a deliciously satisfying meal.
Περισσότερα
Love potions: 10 aphrodisiac foods for Valentine's Day
For centuries upon centuries, certain foods and drinks have been lauded for their aphrodisiac powers. That is something that stimulates sexual desire. We've all heard about oysters and strawberries, but is there any scientific backing to it all?
Περισσότερα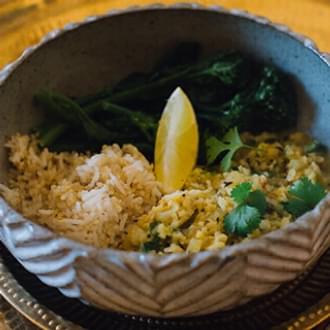 Ayurvedic Cleanse - Dinner - Simple Dal
The delicate yellow split lentils are served with lightly steamed broccoli for the perfect detoxifying meal. Add a touch of lemon and ginger for an extra cleansing tone.
Περισσότερα
Ayurvedic Cleanse - Dinner - Moong Dal with Chard & Lemon
Also known as mung beans/green gram. Easily digested, soothing, medicinal & detoxifying qualities. More fibrous and have very soothing, light, soft qualities. Enjoy them in this cleansing​ recipe.
Περισσότερα