Simple way to a healthy company!
Why companies should care about their employee's health, fitness and well-being? Answer is quite simple – healthy workers are happy workers. They are more likely to stay in the company and perform their duties with more enthusiasm after they have done some physical exercise or had a healthy lunch. Research from The Accounting Web states that fitness and healthy lifestyle also reduces the amount of sick days which employees have to take, at the same time saving your money.
Another research from Business News Daily shows that employees who eat healthy all day long are 25% more likely to have better job performance. In addition, employees who exercise for at least 30 minutes, three times a week, were 15% more likely to also have higher job performance.
Google Inc. is one of the companies which care about its employees. They are offering bocce courts, a bowling alley, an overflowing healthy food pantry and other activities to their employees to help them stay fit and healthy. CEO Larry Page says:
"When you treat people well you get better productivity. Rather than really caring what hours you worked, you care about output. It helps employee be a lot happier and more productive. This is more important", based on article from Business Insider.
While some companies choose to offer extra vacation days as a benefit to employees that they can recharge their batteries, other companies choose to offer a paid gym membership to each employee. Fitness packages are a good way for companies to express care about the employee and also protect interests of the company. We can read in The Wall Street Journal that every year the number of companies who have chosen to invest in employee well-being is growing. They have understood, if they want to be successful they need to think about their employees.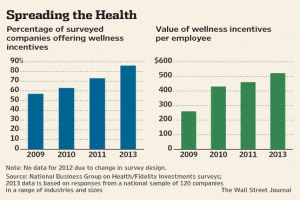 Based on information from Self Growth, fitness and wellness activities can help to improve employee's productivity in workplace in several ways:
Employees become full with energy, that allows them to stay focused on the tasks during the day, and bring the best of themselves to each task;
They are more self-confident and will leave better impression on clients;
They also have better attitude and lower stress level because regular exercise releases the physical and emotional tension which has been gathered during the day.
Regular exercising not only helps to improve health condition and physical form but also can increase the salaries. Employees who regularly exercise are earning 9% more than their lazy co-workers (based on article from Times). In the same time exercising improves employees mood, they are less likely to suffer bouts of the afternoon fatigue known as "post-lunch dip" and they go home more satisfied with their work (based on article from Times).
Meanwhile company can organize some stretching or small sports activities during the lunch break, since most of the time your employees are probably sitting in the same position for a long time, what makes them tired and causes lack of concentration. This kind of extra physical activities will help them to wake up and continue their work in a more productive way.
Elīna Gerharde
Holmes Place
Bibliography:
Business News Daily (8.01.2013.) You Are What You Eat...Even at Work. Available: http://www.businessnewsdaily.com/3699-healthy-eating-worker-productivity.html
Businessinsider (13.10.2012.) 23 Companies With Employee Perks That Will Make You Jelaous. Available: http://www.businessinsider.com/companies-with-awesome-perks-2012-10?op=1
The Wall Street Journal (8.04.2013.) Your Company Wants to Make You Healthy. Available: http://online.wsj.com/article/SB10001424127887323393304578360252284151378.html
Forbes (8.08.2012.) More Companies Offer Perks To Lose Pounds As Incentives To Stay Healthy Increase. Available: http://www.forbes.com/sites/brucejapsen/2012/08/08/more-companies-offer-perks-to-lose-pounds-as-incentives-to-stay-healthy-increase/
The Accounting Web (03.05.2010.) Healthy workers mean happy, more productive workers. Available: http://www.accountingweb.com/topic/fitness/healthy-workers-mean-happy-more-productive-workers
Times (08.06.2012.) One More Reason to Hit the Gym: You'll Make More Money at work. Available: http://business.time.com/2012/06/08/one-more-reason-to-hit-the-gym-youll-make-more-money/
Self Growth (n.m.) 10 Reasons to Encourage Fitness in the Workplace. Available: http://www.selfgrowth.com/articles/Doyle4.html