Running with a Cause - The Kenya Project with Chris Cooper
Chris Cooper is a marathon runner, Senior Manager at Holmes Place Clubs Hamburg Bahrenfeld & Lübeck and he is gathering support for a big cause. Meet the Kenya project and learn how you too can help.
At Holmes Place we are in the business of helping people enjoy their journey, leading fulfilling, happy and healthy lives. This means we have the privilege of being surrounded by incredible humans, with big hearts and capable of accomplishing amazing things.
The Kenya Project with Chris Cooper
We are proud to count on Chris Cooper as our Senior General Manager for Holmes Place Clubs Hamburg Bahrenfeld & Lübeck in Germany. But there are other areas in his life where Chris also excels. From marathon running, and commitment to a healthy and active lifestyle, to reaching out to others and helping to make the word a better place (yes, it's a cliché but it is also the truth).
How did it all begin?
The catalyst to start running and being healthier was actually when my colleague, Méritxell, had to look after me in a Barcelona Hospital when I had pretty bad pneumonia. As a young father and an asthmatic, this experience was a real kick into reality.
And since then?
I got the ´running bug´ so they call it. I started spending more time looking at the sport rather than just a fitness activity. Mo Farah became somewhat of an idol for me, and so I read his autobiography. He refers to the ´Kenyan Way´ often, and so I did my research and came across the book ´Running with the Kenyans´ and then one thing led to another.
We know you've been training specially hard lately…
I have been training quite hard for a number of months now under the guidance of an online running coach based in Iten (the setting of the book, Running with the Kenyans) and support of the fitness team here in Bahrenfeld.
During this journey which leads to the Hamburg Marathon in 2 weeks, I became quite connected with my coach and a few other guys based in Kenya. So much so, that the current crisis which is across a wide area of East Africa due to a large drought hit me quite hard and has made me want to help.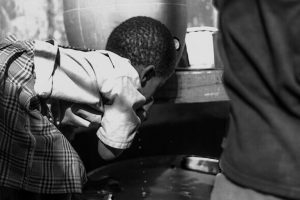 And you've made it your business to help. What is your plan?
With the funds I have raised offline and online, I'll make the 26 hour journey to Eldoret in Kenya a few hours after the Hamburg Marathon later this month. I will meet Mary Keitany (2014/15/16 New York Marathon winner) and buy a lorry full of corn and beans from her farm.
I will then drive deep into the Kerio Valley where poverty is really bad, and visit two schools to deliver this food. The food will be a guaranteed meal for the children, of whom the majority eats just 1 small meal per day only. I aim to raise enough to feed two schools with 200 children for the next 3 months.
This is ´just´ the first visit to Kenya I will make. Initially to deliver aid, but secondly for inspiration and contacts on how I can help further as a long term project.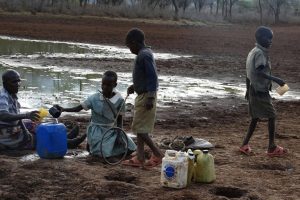 What can we do to help?
If you'd like to support you can donate on my crowd funding page: http://www.crowdfunder.co.uk/runners-heal
You can also follow my journey on Facebook and Instagram where I will post photos and videos of the trip, and interviews with some athletes over in Kenya.
I have a little blog of the story at www.runnersheal.com too .