Wyszukaj w dowolnym czasie, wpisując
Five minute plank full body workout: Get fit by standing still
300 seconds of your day is all you need to help you on your way to a stronger, toned body. Sound unbelievable? It's true - this short burst of exercise has proven results. Enter, the five-minute plank full-body workout.
Więcej
Triathlon Athlete Workout with Filip Szymonik
Triathlete and Holmes Place personal trainer Filip Szymonik in an exclusive interview. Check out his workout routine that will take you straight to the podium: open water swimming, running, cycling and gym circuit. Be inspired.
Więcej
Valentine's Day - workout for two
The idea might seem unappealing but we guarantee that working out together as a couple helps in a lot of ways. A little competition can be a source of great motivation. At the same time, knowing that you have each other's back, and are working for a common goal, brings you closer together.
Więcej
Three great reasons to try Euphoria
Hands up if you're finding fitness a chore rather than an enjoyable experience? Many of us feel that exercise is just another tick-box process that needs doing to keep our body healthy. Well, yawn no more and try Euphoria by Holmes Place.
Więcej
Six Reasons to Aerial Yoga
Yoga is renowned for stretching, relaxing and meditation. But the introduction of Aerial Yoga into your routine could help you reap even more rewards, both physically and emotionally.
Więcej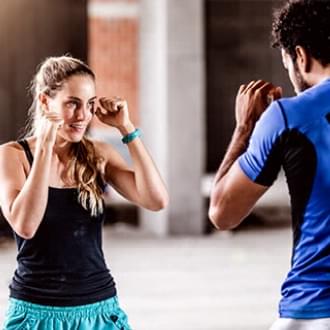 How to defend yourself from an attack in 5 essential moves
How to defend yourself from an attack in 5 essential moves plus the Holmes Place classes that can benefit your self-defence
Więcej